Description
For those seeking Ashdown tone, power and reliability without the weight the RM-500 EVO II is the solution. Perfect for small, medium and even larger shows when paired with the right cabinets.
Weighing in at just 2.1KG(4.6lbs) but boasting 500 watts of power, class leading quality and features. The Rootmaster EVO II range also now comes equipped with an on-board headphone preamp to allow for silent practice, which doubles up these gig-ready amplifiers as handy practice devices.
The pre amp includes a passive and active input jack socket for use with high and low output instruments, this sets a clear signal path to the input control enabling you to fine tune your input level using the trademark Ashdown VU meter. With the signal at its optimal level, you then hit the rich features designed enhance your tone, such as the shape button, 5-band EQ and on-board compressor. The drive control, as always delivers a delectable valve emulated over-drive, whilst the sub harmonic controls add further fatness to your tone – both can be foot-switched via an FS 2 foot-switch (sold separately).
Rootmaster EVO II heads also features a handy mute button. What's even cooler is when switched to mute, the trademark Ashdown Engineering VU meter changes from orange to cool blue – creating the perfect on stage mood lighting between sets.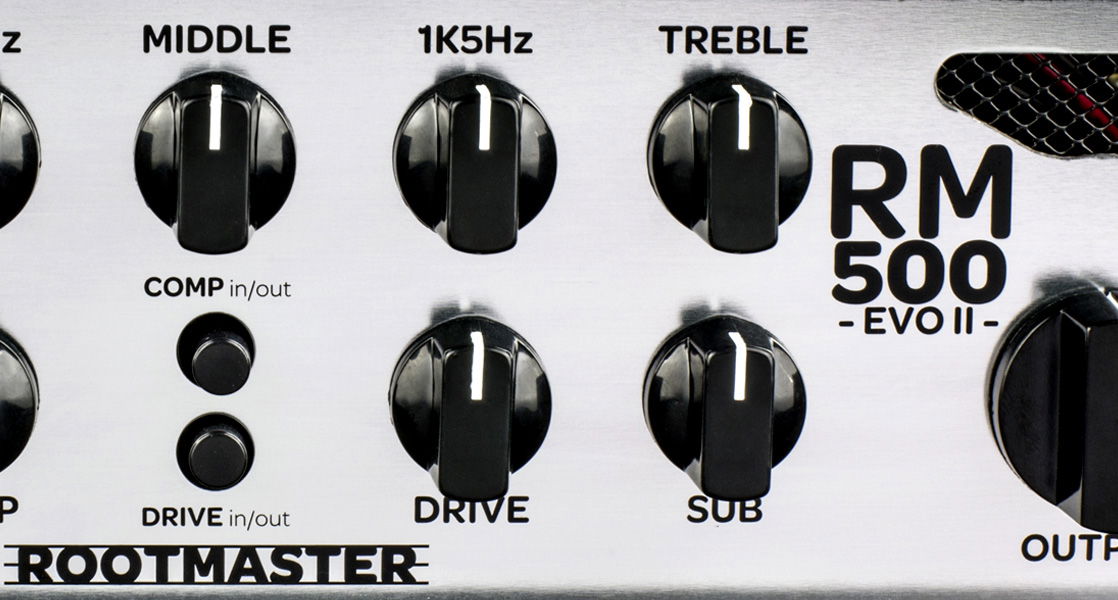 Matt anodised alloy front panel
Ashdown have upgraded the amp's front panel with a matt anodised alloy finish, replacing the previous polished stainless steel. This simple, yet observant modification makes reading your amp settings that bit easier when placed under bright stage lighting.
No more reflective surfaces.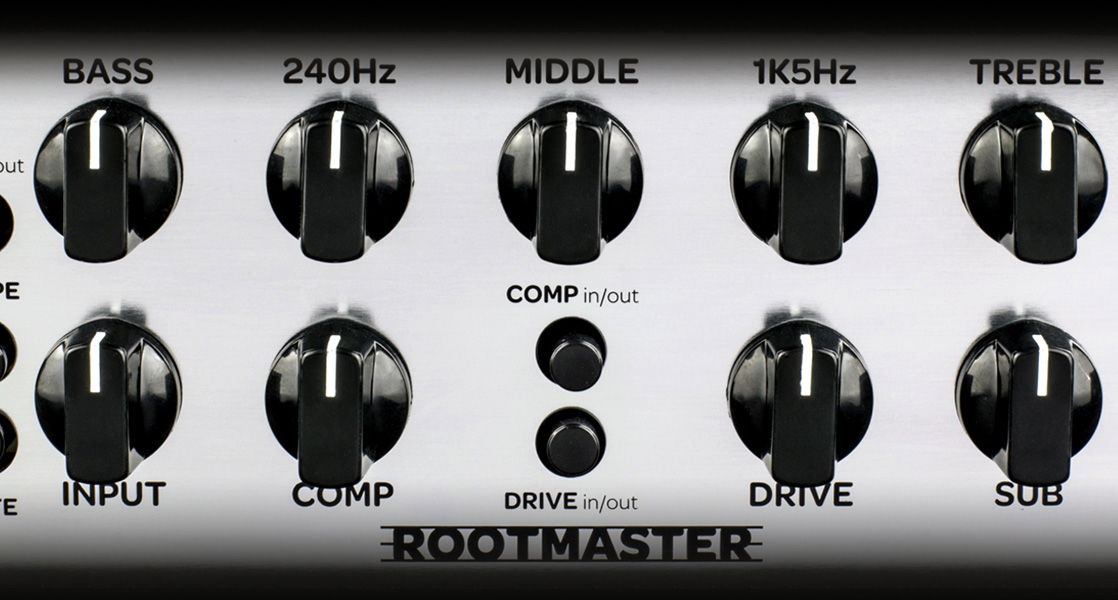 The Rootmaster EVO series' pre amp now includes a passive and active input jack socket for use with high and low output instruments. The five- band rotary tone controls act with surgical precision to provide total control over your sound, while a shape switch instantly dials you in to a classic Ashdown tone setting, straight from the world-famous ABM.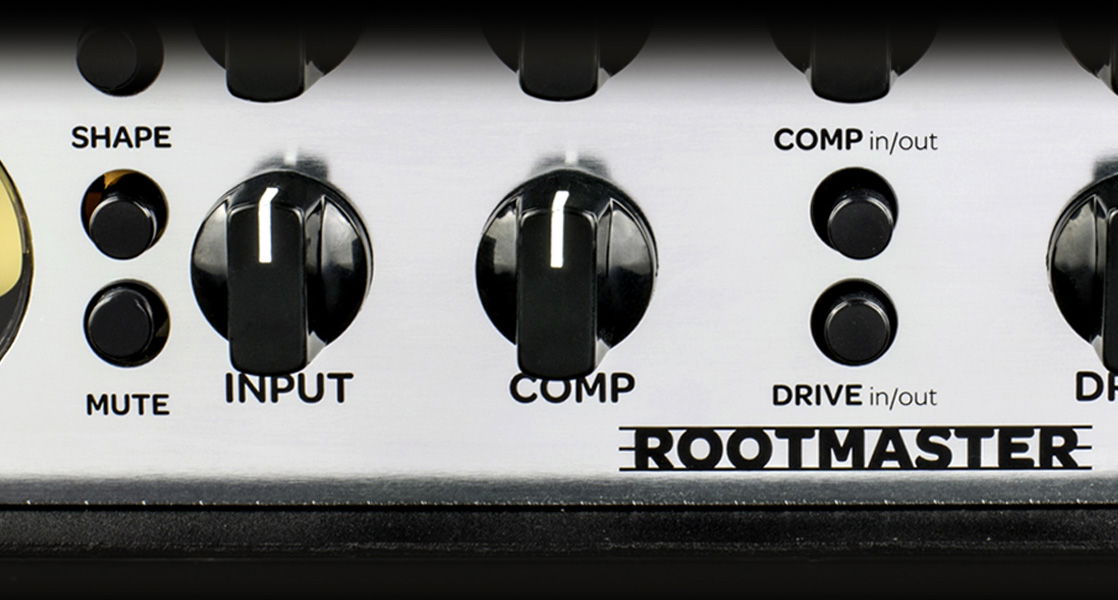 Instantly adding warmth and body to your tone, this simple to use, great sounding compressor delivers a powerful, even sound to make sure your bass is smooth as silk and will fill out any mix.
With footswitchable flexibility, our tube-emulated overdrive can take your core bass sound and push it into warm overdrive through to distorted filth whenever you need to add extra grind and girth to your tone.
Bringing extra depth and definition to your bass parts, the Sub-Harmonic Generator lets you dial in a sub-octave and kick it in via footswitch whenever you need the extra depth for those super-heavy Godzilla moments.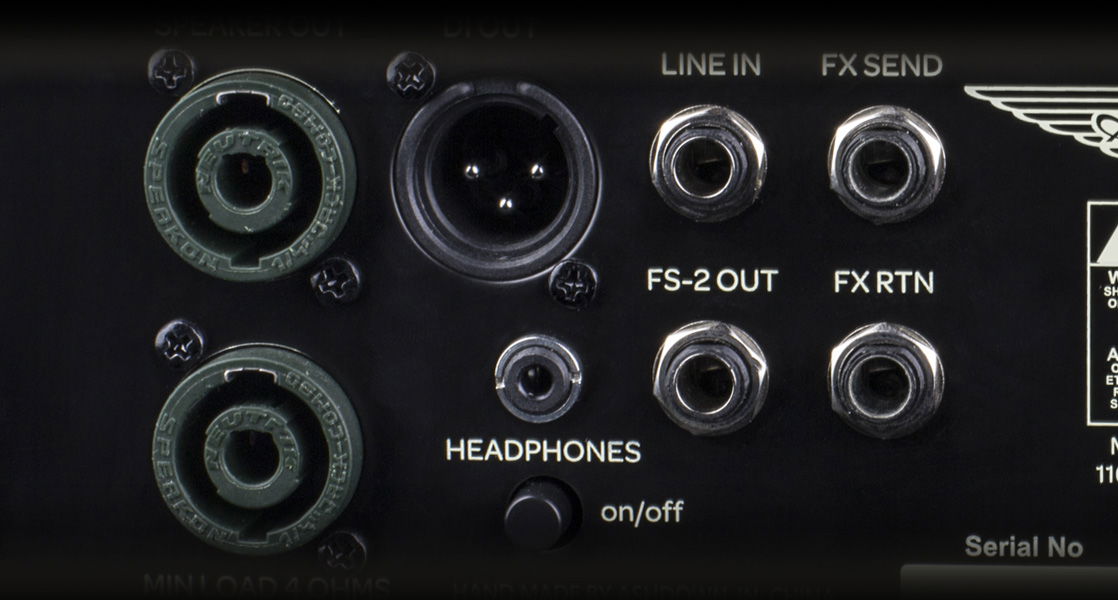 If you want to use your favourite pedals or multi-effects, you'll find send and return sockets on the back panel, along with a DI output for direct injection into the PA mixer or recording console and a Line Input (with front panel level control) so you can jam along with a backing track in rehearsal.
A pair of Neutrik Jack/Speakon sockets with a minimum 4 ohm load provides flexible partnering options with a dedicated range of Rootmaster EVO cabinets. The Rootmaster 500 EVO II can be used to power a single 8 ohm cabinet, a pair of 8 ohm cabinets or a single 4 ohm cabinet.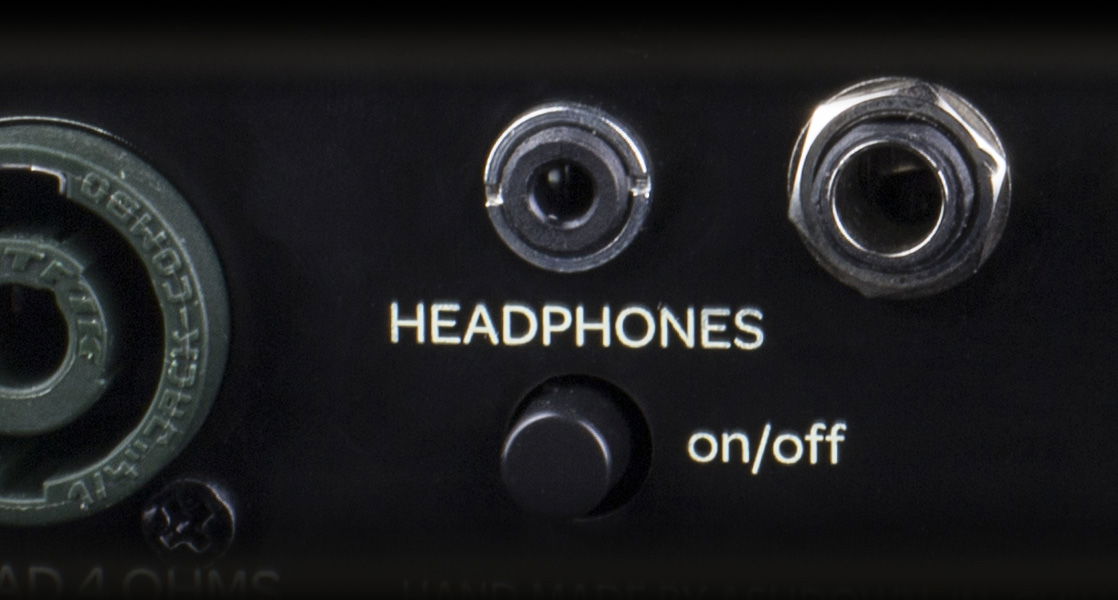 The Rootmaster EVO II range now comes equipped with an on-board headphone preamp to allow for silent practice,which doubles up these gig-ready amplifiers as handy practice devices. The headphone preamp maximises the full sound potential of your headphones, so now your in ear sound can match the quality of your stage sound
Specifications
Power Output 500 Watts
Power Requirement 115-230 Volts
Speaker Outputs 2 x Neutrik Speakon/Jack outputs
Frequency Response -3dB @ 17Hz und 30KHz
High Instrument Input Impedance 3.9m Ohms, input range 150mV
Low Instrument Input Impedance 10k Ohms, input range 300mV – 40V p-p
Line Input Impedance 22k Ohms, input level 0dBu nominal
DI Output 600 Ohm balanced, Level 0dBu nominal
Tuner Output Impedance 22k Ohms, Level 0dBu nominal
Impedance Minimum 4 Ohms
Signal to noise Better than 80dB (EQ flat)
EQ Bass +/-15dB @ 100Hz Lo Mid +/-15dB @ 220Hz Middle +/-15dB @ 660Hz Hi Mid +/-15dB @ 1.6kHz Treble +/-15dB @ 7kHz shelving Deep +
Effects Send Impedance 22k Ohm, Level 0dBu nominal
Effects Return Impedance 22k Ohms, Input Level 0dBu Nominal
Distortion Less than 0.5% THD
H x W x D (mm) 86 x 314 x 235
Weight 2.1kg